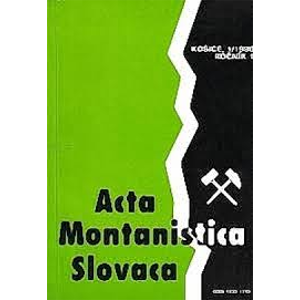 Dawid Szurgacz, Konrad Trzop, Anthony J. S. Spearing, Jiří Pokorný, Sergey Zhironkin
Determining the pressure increase in the hydraulic cylinders of powered roof support based on actual measurements
Číslo: 4/2022
Periodikum: Acta Montanistica Slovaca
DOI: 10.46544/AMS.v27i4.04

Klíčová slova: pressure measurement; hydraulic cylinder/prop; powered roof support; extraction wall; work safety; longwall mining
Pro získání musíte mít účet v Citace PRO.
Anotace:
Powered roof support in a longwall operation is designed to maintain

a safe working area and allow the immediate roof to fail and collapse
behind the support. The powered supports are loaded using large
hydraulic pumps with non-return and preset-yielding valves. In
addition to providing support to the immediate roof in the longwall
production area, it also moves the armoured face conveyor and
shearer forward as coal mining progresses. The research aimed to
analyse the changes in the pressure values in the powered roof
support section's hydraulic cylinders in relation to the occurrence of
rock mass movements in the roof. The pressure measurements are
based on the sensors in the sub-piston space of the powered roof
support hydraulic prop located in the steel wall. The results allow a
correlation to be developed between the roof movement and the loads
generated in the hydraulic cylinders.
Zobrazit více »