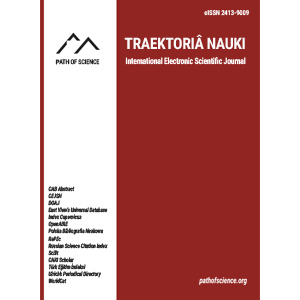 Tetiana Chorna, Dmytro Yanushkevych, Vita Afanasieva
Modern Aspects of Safety Assessment of Foodstuff
Číslo: 4/2018
Periodikum: Path of Science
DOI: 10.22178/pos.33-7

Klíčová slova: food safety; analysis; regulation; chromatographic; instrumental methods
Pro získání musíte mít účet v Citace PRO.
Anotace: Food safety is one of the decisive components of the economic security of each state and is determined by the ability of the country to control effectively the production and import of safe and high-quality food on the generally accepted principles of the world. This sphere of activity in human society has extremely important humanitarian, social, economic and political aspects.Zobrazit více »

The food raw materials and food products quality and safety control is currently the most relevant analytical task. It is more important than environmental pollution, according to some data, more than 70 % of harmful pollutants in the human body gets through food, 20% of water and 10 % of the air.

Technogenic pollution of the environment through soil, water and air gets directly into the food. However, food products are contaminated with natural harmful substances that appear in improper storage, in violation of technologies, food processing and processing charts.

The article is devoted to the main factors analysis influencing the safety of food products and the improvement of instrumental methods for the study of quality aromatic products (for example, coffee).