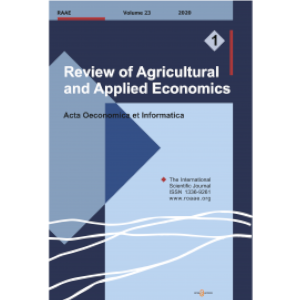 Jonathan Reuben, Christiana Mlumun Nyam, Daniel Tukura Rukwe
Agricultural Credit Guarantee Scheme Fund And Its Effect On Agricultural Output In Nigeria
Číslo: 2/2020
Periodikum: Review of Agricultural and Applied Economics
DOI: 10.15414/raae.2020.23.02.102-111

Klíčová slova: credit; agricultural credit guarantee scheme fund; farmers; output; Nigeria
Pro získání musíte mít účet v Citace PRO.
Anotace:
Research Background: Agricultural production in Nigeria experiences the challenge of inadequate funding particularly by farmers in rural areas. In an attempt to enhance farmers' access to credit, the federal Government of Nigeria set up Agricultural Credit Guarantee Scheme Fund (ACGSF) to boost funding in the sector. But to what extent the Scheme has affected the output of agricultural sectors in the Country for the period under review is of great concern especially to policy makers in the Country.

Purpose of the article: The study analysed trends and effect of Agricultural Credit Guarantee Scheme Fund (ACGSF) on farmers' agricultural output (GDP) in Nigeria. The specific objectives of the study were to examine the trend in volume of loans guaranteed by ACGSF to farmers and determine the effect of ACGSF on agricultural output for the period under review.
Methods: Secondary data were sourced from Central Bank of Nigeria bulletins, National Bureau for Statistics data base and other financial bulletins. The data were analysed using descriptive and inferential statistics.
Findings and value added: The trend revealed that the supply of funds to agricultural sector from the scheme has always increased in a wobbly pattern. It was found that funds guarantee to crop-sub sector increased steadily from 1998 to 2009. The result shows that credit supplied to livestock sub-sector by ACGSF rose consistently in the period under review but initially declined from 1998-2007. The multiple determination coefficients (R2) of 0.8523was obtained and the coefficients of ACGSF on crop sector, livestock sector and fishery sector were 0.1607, 0.2320 and 0.2110 respectively. The signs were all positive and significant at 1% and 5% levels. The study concludes that ACGSF has a positive effect on agricultural output in Nigeria. Hence, it is recommended that government, agricultural agencies and allied bodies should give more preference to the scheme to boost agricultural production. Government should increase funding to the scheme in order to diversify the earnings to eliminate her dependency on oil export.
Zobrazit více »