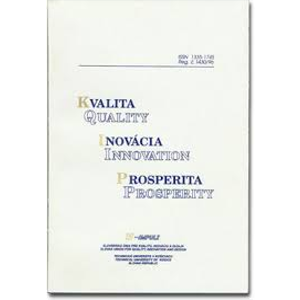 Jorge Rodrigues, José C.V. De Sá, Luís P. Ferreira, Francisco J.G. Silva, Gilberto Santos
Lean Management "Quick-Wins"
Číslo: 3/2019
Periodikum: Quality Innovation Prosperity
DOI: 10.12776/qip.v23i3.1291

Klíčová slova: management by objectives; KPI; Daily Kaizen; visual management; Yokoten
Pro získání musíte mít účet v Citace PRO.
Anotace:
Purpose: This study comprised two main goals. The first goal demonstrates how LT (Lean Tools) allows the highest impact during the implementation phase.The second goal consisted of introducing procedure changes based on the Management of Human Resources through Lean Leadership tool. The target for these two objectives is to achieve an increase of 5% in machine occupancy rate and a reduction of 10% regarding the costs of defective products per hour.

Methodology/Approach: The research methodology is a Action-Research/Research-Action developed by Professor Kurt Lewin of MIT that goes through cycles of five stages: Diagnosis; Planning; Implementation; Evaluation, Conclusions.

Findings: Regarding the two objectives above mentioned, it was observed an increase of 8.5% in machine occupancy rate and a reduction of 27.9% regarding the costs per hour of defective products. It was created an additional motivation in the employees and very satisfying results in every production.

Research Limitation/implication: The study is limited to a Portuguese Small and Medium-sized Enterprise (SME) in the metalworking sector.

Originality/Value of paper: Lean tools can be rapidly and easily implemented and quickly understood by the workers. With that implementation, the occupation of the machines has increased and the defects and their costs have decreased, so the added value grows.
Zobrazit více »