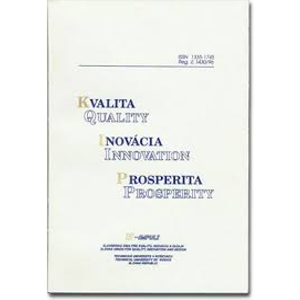 Luis Miguel Fonseca, José Pedro Domingues
Empirical Research of the ISO 9001
Číslo: 2/2018
Periodikum: Quality Innovation Prosperity
DOI: 10.12776/qip.v22i2.1099

Klíčová slova: ISO 9001:2015; quality management systems; certification; benefits
Pro získání musíte mít účet v Citace PRO.
Anotace: Purpose: With the transition period for ISO 9001 certified organisations to migrate to the 2015 edition ending 15th September 2018, this investigation aims to evaluate the status of ISO 9001:2015 transition process and provide useful knowledge on the corresponding motivations, benefits, and success factors.Zobrazit více »

Methodology/Approach: An empirical study of more than 300 Portuguese organisations ISO 9001 certified, or in certification process, encompassing a wide range of activities sectors, was carried out.

Findings: As of May 2017, 19% of the respondents already have ISO 9001:2015 certification and all the remaining one's plan to complete the process in time. The principal reported benefits are risk-based thinking, mapping of the organisational context, and stakeholder identification. Simultaneously those were the issues that required more attention and effort to be mastered and implemented. Additionally, there is evidence that ISO 9001:2015 enhances both internal and external organisational issues and generates benefits for all the researched dimensions. Based on the respondents' responses, organisations who claimed that external motivations were the primary drivers to ISO 9001:2015 implementation systematically rate higher all the benefits when compared with the rating ascribed by those organisations who claimed internal motivations. Moreover, it is possible to conclude that the perceived benefits from ISO 9001:2015 implementation and certification seem to be strongly influenced by two primary dimensions: the (smaller) organisation size and the (lesser) international presence.

Research Limitation/implication: Due to ISO 9001:2015 novelty, the results of this investigation should be subject to future confirmation and replicated in other countries to allow a generalisation of the conclusions. Since the survey is based on the perceptions of the organisation's Managers, there is a potential response bias risk that should be acknowledged.

Originality/Value of paper: With more than 1.2 million ISO 9001 certified organisation worldwide, this a highly relevant issue both for organisations, practitioners and academics. Due to ISO 9001:2015 novelty, this investigation aims to fill this research gap.