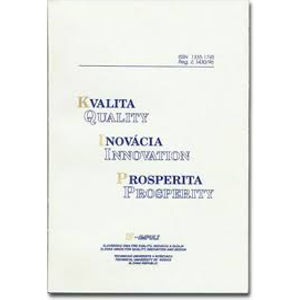 Josef Tošenovský, Filip Tošenovský
Possibilities of Using Graphical and Numerical Tools in the Exposition of Process Capability Assessment Techniques
Číslo: 2/2019
Periodikum: Quality Innovation Prosperity
DOI: 10.12776/qip.v23i2.1219

Klíčová slova: process capability; capability index selection; process robustness
Pro získání musíte mít účet v Citace PRO.
Anotace:
Purpose: The paper focuses on how the problem of process capability assessment can be handled when taught, using convenient numerical and graphical means. The contents of the paper results from the authors' own academic and practical experience, which suggested that many important steps are overlooked in the process of selecting and using capability indices.

Methodology/Approach: Selected problems in capability assessment are illustrated with suitable examples and graphs.

Findings: The authors' experience is reflected in the paper, aiming to emphasize what matters and how, and what does not. Also, a new capability index is introduced.

Research Limitation/implication: The style in which the problems are analysed may serve as a guide for further studies in the field and capability index applications.

Originality/Value of paper: The paper also contains, aside from specific examples, some more advanced techniques, and is therefore accompanied by software readouts, since computer support is required in such cases.
Zobrazit více »