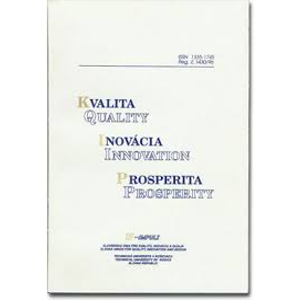 Luís César Ferreira Motta Barbosa, Maria Augusta Siqueira Mathias, Gilberto Manuel Santos, Otávio José De Oliveira
How the Knowledge of the Major Researchers Is Forging the Business Strategy Paths
Číslo: 3/2020
Periodikum: Quality Innovation Prosperity
DOI: 10.12776/qip.v24i3.1404

Klíčová slova: strategy; business strategy; bibliometric analysis; state of the art; review
Pro získání musíte mít účet v Citace PRO.
Anotace:
Purpose: Given its large number of publications, the subject "strategy" stands out as an important field of scientific literature with multidisciplinary characteristics, involving the most varied research areas. The aim of this paper is to analyse the state of the art on business strategy, which have enabled the identification of the characteristics of the most influential articles and authors.

Methodology/Approach: This article is a literature review based on bibliometric parameters, which the main novelty has been the identification of specific characteristics of the main publications and researchers on business strategy during the peak production period of 1998-2017.

Findings: The main contribution of this article is to guide researchers interested in developing studies related to business strategy, highlighting the subject's chronological evolution and the correlations analyses among publications.

Research Limitation/implication: The searches and selection of bibliometric parameters have been limited to two of the most relevant databases (Scopus and Web of Science). Another restriction was that only articles and reviews containing the term "business strategy" in their respective titles were considered.

Originality/Value of paper: Although bibliometric studies have already been published in managerial and strategic areas and subareas, the scientific literature still lacks articles with the same level of details and analysis performed in this paper, which portrays the main novelty of this research.
Zobrazit více »