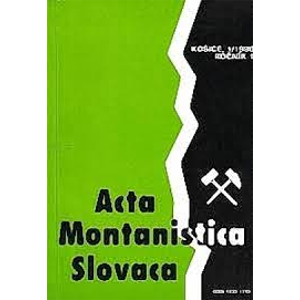 Beata Grynkiewicz-Bylina, Bożena Rakwic, Aleksey Shchenyatsky
Testing the selected parameters of conical picks
Číslo: 4/2019
Periodikum: Acta Montanistica Slovaca

Klíčová slova: Conical picks, Sintered carbides, assessment of the quality
Pro získání musíte mít účet v Citace PRO.
Anotace:
Conical picks are characterized by the structural and material parameters, affecting the effectiveness of mechanical mining of coal and

rock with roadheaders and longwall shearers in mining plants. Unsatisfying the specific technical parameters of cutting tools by
manufacturers, especially pick length and not proper type and quality of materials used for their manufacture may result in excessive
asymmetric wear, break of holding part or fall out what means a necessity of their frequent replacement. There is no standardized method
for assessing the cutting picks quality and durability. That is why, to reduce conical picks rate of wear, the scientific organizations have
undertaken the research projects on new designs of cutting picks and materials for their manufacture as well as on the development of
laboratory and computational methods for determination of conical picks rate of wear. Results of testing the cutting picks, used in
roadheaders and longwall shearers, conducted according to the unique author's procedure, are presented. The test results indicate for the
need of improving the methods for assessing the quality of cutting picks, especially in the scope of testing the connection of sintered carbide
with a body of a cutting tool.
Zobrazit více »