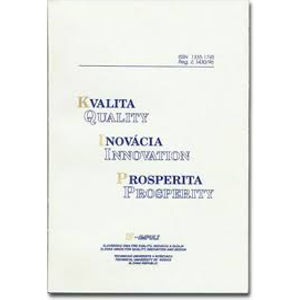 Radosław Wolniak
Downtime in the Automotive Industry Production Process – Cause Analysis
Číslo: 2/2019
Periodikum: Quality Innovation Prosperity
DOI: 10.12776/qip.v23i2.1259

Klíčová slova: quality tools; production line; downtime; quality management; quality improvement; quality methods
Pro získání musíte mít účet v Citace PRO.
Anotace: Purpose: The article presents an analysis of the application of selected quality management methods and tools in order to identify factors affecting downtimes in the production line, illustrated with an example of the automotive industry.Zobrazit více »

Methodology/Approach: The paper contains an analysis of downtimes in the production process using selected methods and tools of quality management. The authors used a combination of tools and methods to carry out the analysis. In this concept, first, the 5WHY method and the Ishikawa diagram were used.

Findings: The research results presented in the paper suggest that better results can be achieved by using a set of quality tools instead of one particular tool. The authors found that using a wide range of quality tools can be useful to reduce downtimes on the production line.

Research limitation/implication: The major limitation of the paper is that it is based on one case of an organisation from the automotive industry. In the future, it will be necessary to conduct studies in more organisations so as to find out if the same result can be achieved.

Originality/Value of paper: The article is concerned with the use of quality management methods and tools to analyse production line breakdowns. Until present, in subject literature, the causes of downtimes have been analysed without differentiating between planned and unplanned downitmes of the production line.