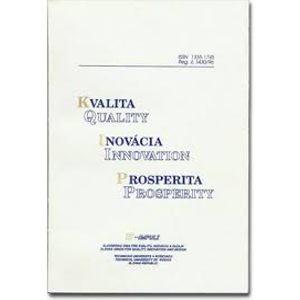 Iwona Burka
How Managers in Poland Use the Principles and Instruments of the Kaizen Philosophy in Their Personal Lives – The Personal Kaizen Approach
Číslo: 2/2020
Periodikum: Quality Innovation Prosperity
DOI: 10.12776/qip.v24i2.1396

Klíčová slova: Kaizen; personal Kaizen; Lean Management; waste; personal improvement
Pro získání musíte mít účet v Citace PRO.
Anotace:
Purpose: The aim of this paper is to show whether and how Polish managers working in the Kaizen/Lean environment, benefit from the knowledge gained during their professional work to develop competences in their personal lives and improve personal productivity. Do they transfer the knowledge gained about lean systems into their private lives and what are the benefits for them?

Methodology/Approach: To answer the research questions raised, the authoress conducted a literature review and a qualitative research – multiple-case studies. As part of the qualitative study, five in-depth interviews were made.

Findings: The literature review and the qualitative research carried out allowed to formulate conclusions, including, i.a., the following: managers transform the knowledge acquired during the training conducted as part of their professional work into their private lives; it is possible to distinguish a number of principles and instruments of the studied concepts that are applied to support the process of developing personal professional and non-professional competences.

Research Limitation/implication: Subjectivity of the analysis, owing to the application of a qualitative approach in the studies.

Originality/Value of paper: The literature review points to a small number of scientific publications connected with the implementation of the Kaizen approach and Lean Management principles and instruments in the process of developing personal competences and improving personal productivity. This publication is the first approach to creating a Personal Kaizen Toolbox.
Zobrazit více »