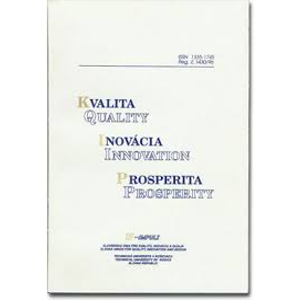 Jozef Bľanda, Nataša Urbančíková
Social Entrepreneurship as a Tool of Sustainable Development
Číslo: 3/2020
Periodikum: Quality Innovation Prosperity
DOI: 10.12776/qip.v24i3.1463

Klíčová slova: social entrepreneurship; social entrepreneurs; sustainable development
Pro získání musíte mít účet v Citace PRO.
Anotace:
Purpose: The article deals with the analysis of the perception of social entrepreneurship in Slovakia by social entrepreneurs. The main aim is to identify how social entrepreneurs perceive individual aspects of social entrepreneurship in Slovakia, including the role of social entrepreneurship in sustainable development.

Methodology/Approach: The analysis was based on data obtained from a questionnaire survey conducted among social entrepreneurs in Slovakia. The survey was attended by representatives of 35 social enterprises from Slovakia. A seven-point rating of Likert scale used within the questionnaire. The mode, median and interquartile range of answers were used to evaluate the questionnaire.

Findings: Social entrepreneurs pointed out that social entrepreneurship is still in development in Slovakia and several obstacles causing this situation. They also agreed that the most important benefit of social entrepreneurship in Slovakia is the effort to solve social problems. The research results show that the priority of social entrepreneurs in Slovakia is not to support sustainable development.

Research Limitation/implication: The research was limited by the number of social entrepreneurs who participated in the survey. More than half of social enterprises, registered in Slovakia were not willing to participate in the survey.

Originality/Value of paper: The article brings important findings in the field of social entrepreneurship, which are based on the practical experience of social entrepreneurs in Slovakia.
Zobrazit více »