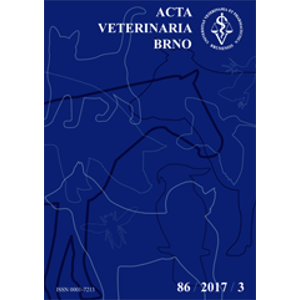 Jin Choi, Hong Bum Kim, Young Ung Kang, Min Jung Kim, Sang-im Lee, Hyun Ju Oh, Geon A Kim, Young Kwang Jo, Eun Jung Park, Jin Yong Park, Yun Gyu Choi, Byeong Chun Lee
Personality consistency analysis in cloned quarantine dog candidates
Číslo: 3/2017
Periodikum: Acta Veterinaria Brno
DOI: 10.2754/avb201786030273

Klíčová slova: Canine behaviour, cloned dog, puppy aptitude test, Chování psů, klonovaný pes, test štěňat.
Pro získání musíte mít účet v Citace PRO.
Anotace: In recent research, personality consistency has become an important characteristic. Diverse traits and human-animal interactions, in particular, are studied in the field of personality consistency in dogs. Here, we investigated the consistency of dominant behaviours in cloned and control groups followed by the modified Puppy Aptitude Test, which consists of ten subtests to ascertain the influence of genetic identity. In this test, puppies are exposed to stranger, restraint, prey-like object, noise, startling object, etc. Six cloned and four control puppies participated and the consistency of responses at ages 7–10 and 16 weeks in the two groups was compared. The two groups showed different consistencies in the subtests. While the average scores of the cloned group were consistent (P = 0.7991), those of the control group were not (P = 0.0089). Scores of Pack Drive and Fight or Flight Drive were consistent in the cloned group, however, those of the control group were not. Scores of Prey Drive were not consistent in either the cloned or the control group. Therefore, it is suggested that consistency of dominant behaviour is affected by genetic identity and some behaviours can be influenced more than others. Our results suggest that cloned dogs could show more consistent traits than non-cloned. This study implies that personality consistency could be one of the ways to analyse traits of puppies.