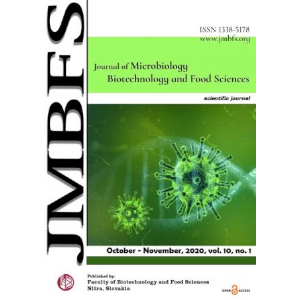 Rashmi Venkatasubbaiah, Sanjay Konasur Rajesh
Food processing and fermentation studies on reduction of phytic acid in triticum aestivum and sorghum bicolor (l.)
Číslo: 2/2020/2021
Periodikum: Journal of Microbiology, Biotechnology and Food Sciences
DOI: 10.15414/jmbfs.2020.10.2.166-169

Klíčová slova: Phytic acid, Antinutrients, Fermentation, Lactic Acid Bacteria, Wheat, Sorghum
Pro získání musíte mít účet v Citace PRO.
Anotace: Wheat and sorghum are the main dieter cereals for millions of people in Africa and Asia. Their nutritive value in wheat and sorghum isZobrazit více »
limited due to presence of several anti-nutritional substances such as tannins, phytic acid, proteinase inhibitors and cyanogenic
glycosides. Phytic acid (PA) or myo-inositol hexakisphosphate (IP6) in salt form known as phytate is the principal storage form of
phosphorus in plant tissues, typically accounting for 60-90% of total seed phosphorous. Phytase enzyme catalyses the hydrolysis of
phytate and releases the phosphate for absorption. This study explains the use of different methods for the reduction of PA content in
wheat and sorghum such as soaking, cooking, roasting and fermentation using lactic acid bacteria (LAB). Among all the methods,
fermentation using LAB was found to be effective in reduction of PA. LAB was isolated from the curd sample and fermentation of
wheat and sorghum flour was carried out to reduce the PA content. The effect of different fermentation conditions such as pH,
temperature and incubation time was also carried out. The results have shown that the optimal fermentation conditions for reduction of
PA in wheat and sorghum flour using LAB were; pH- 6 (wheat) and 6.5 (sorghum), temperature 32 o C (wheat) and 37 o C (sorghum)
and fermentation time of 4 to 6 h for both wheat and sorghum. The percentage of reduction of PA using fermentation process was
compared with the other methods such as soaking, cooking and roasting process.