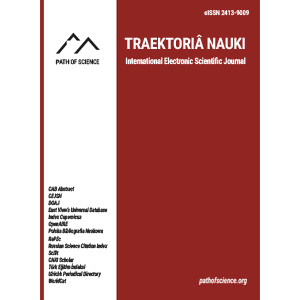 Viacheslav Hladky
The Structure of the System of Corruption Crime Subjects according to the Legislation of Ukraine
Číslo: 4/2019
Periodikum: Path of Science
DOI: 10.22178/pos.45-4

Klíčová slova: official; criminal law; corruption crime; counteraction to corruption; subject of a corruption crime; subject of crime
Pro získání musíte mít účet v Citace PRO.
Anotace: As it is known, the phenomenon of corruption, is characteristic of virtually all spheres of human activity. Therefore, it would be logical to assume that anti-corruption legislation will accordingly prohibit corruption acts for all entities that are capable to objectify the fact of the dominance of corruption in objective reality. This question is extremely relevant, taking into account the following fact: if there are groups of subjects that by their actions (or inaction) cause corruption, but they are not considered by the legislator as subjects of corruption crimes, accordingly, one can speak neither about the proper effectiveness of anti-corruption legislation, nor about the proper quality of anti-corruption activities. At the same time, analyzing the laws of various states, we can conclude that there is still no unified list of subjects of corruption crimes in the world, which, on the one hand, is associated with a different approach to understanding the phenomenon of corruption, and, on the other hand, makes it impossible to formulate a corresponding unified definition.Zobrazit více »

In the article the author attempts to systematize an exhaustive list of subjects of corruption crimes under the current legislation of Ukraine. The corresponding systematization of the subjects of corruption crimes is preceded by an outline of the general idea of the subject of corruption crime in Ukraine, within which, the author identifies the main characteristics of these subjects. At the same time, based on the division of crime subjects in the theory of the criminal law into general and special ones, the "Generalized interpretation of the structure of subjects of corruption crimes under the legislation of Ukraine" is formulated for the first time by dividing possible participants of corruption relations, respectively, into groups of general and special subjects of these crimes. The group of general subjects of corruption offense covers all individuals, capable of being considered subjects of a crime in principle. The group of special subjects of corruption offense is a group of people, which includes the following types of subjects: a public official; a person, equivalent to a public official; top managers of legal entities of private law and individuals, providing services; candidates for public elective posts; separate categories of individuals, performing a special role in the life of society and state.