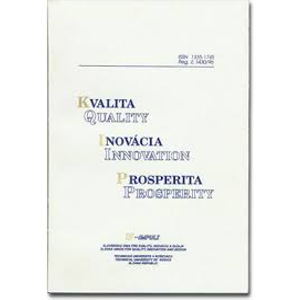 Alexandre Silva, José C. Sá, Gilberto Santos, Francisco J.G. Silva, Luís P. Ferreira, Maria T. Pereira
A Comparison of the Application of the SMED Methodology in Two Different Cutting Lines
Číslo: 1/2021
Periodikum: Quality Innovation Prosperity
DOI: 10.12776/qip.v25i1.1446

Klíčová slova: series change; time reduction; SMED; changeover; productivity
Pro získání musíte mít účet v Citace PRO.
Anotace:
Purpose: This study was carried out in a cork company and its purpose was to observe and analyze the practices and methods used during the tools/series change moments and to propose improvements and alternatives to these same procedures so that the time needed to carry out the setup is reduced by 15% in both lines.

Methodology/Approach:The methodology included the following phases: 1st - historical data collection and setup video recording, 2nd - footage analysis and conduction of informal interviews with employees, 3rd - flow, Gantt, and spaghetti charts creation and making of an action plan based on the waste and improvement opportunities identified in video analysis, 4th - validation with the line workers of the new operating mode created with the Single Minute Exchange of Dies (SMED) tool and communication to the Maintenance department about their role in this project, 5th - making and placement of plasticized cards on the cutting lines to ensure that new operating mode is followed and carrying out the actions identified in the action plan.


Findings: Throughout this project using observations, video recording and its subsequent analysis, as well as interviews to the workers operating in the line, it was found the existence of several actions carried out by them during the setups which did not add value to the product, lack of adequate tools for the work to be performed and lack of work tools in general


Research Limitation/implication: The study was limited by the lines and products under study and by the duration of the curricular internship, which was about five months.


Originality/Value of paper: The article demonstrates the added value in terms of product quality and production output rate that SMED methodology can bring to companies that adopt the lean philosophy and in particular this continuous improvement tool.
Zobrazit více »