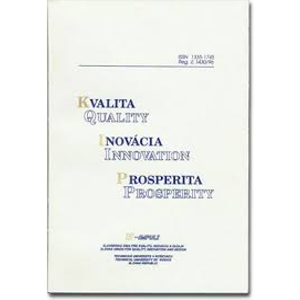 Jaroslav Nenadál, David Vykydal, David Waloszek
Organizational Excellence
Číslo: 2/2018
Periodikum: Quality Innovation Prosperity
DOI: 10.12776/qip.v22i2.1129

Klíčová slova: organizational excellence; excellence models; quality; risks; benefits
Pro získání musíte mít účet v Citace PRO.
Anotace: Purpose: The paper brings a set of original information related to analysis and description of the current state in the area of excellence models implementation in Czech organisations. It defines these terms, analyses results of special research in Czech organisations and proposes a comprehensive and generic framework how to achieve the organisational excellence. The principal goal of this paper is to present the main possibilities, benefits, limitations and risks related to the practical use of excellence models in Czech organisations.Zobrazit více »

Methodology/Approach: Brainstorming conferences, field research and relevant data analysis, seminars with quality professionals and other managers, comparative literature analysis and interviews were used to reach the principal goal.

Findings: The organisational excellence concept is now widely discussed and implemented throughout the world. Unlike, the real situation in most Czech organizations is rather else. Level of knowledge and overall people awareness related to this concept and various excellence models is very low. This finding supports the assumption that is necessary to change company culture towards never-ending excellence effort in Czech organisations by way of systematic knowledge (including best practices) sharing among all levels of organizations staff.

Research Limitation/implication: Special research activities focused on analysis and description of current state in area of excellence models implementation, which was performed on a sample of 321 Czech organisations (with more than 20% response rate). Such level of response rate was seriously influenced by the fact that practical use of various excellence models in Czech organisations is rather limited in present days. However, we can suppose the obtained results should be valid or interesting also for another organization, not only in the Czech Republic.

Originality/Value of paper: The paper brings an original set of information from special market research as well as the development of a creative and generic framework of the organisational excellence tailored to Czech organisations.