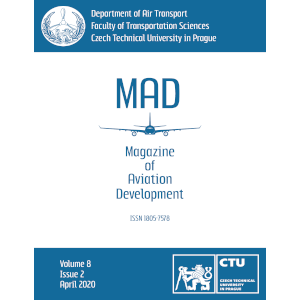 Adam Kleczatsky, Šárka Hulínská, Jakub Kraus
The Role of CIS in the U-space Environment
Číslo: 2/2020
Periodikum: Magazine of Aviation Development
DOI: 10.14311/MAD.2020.02.01

Klíčová slova: U-space, UAS, drone, UTM, CIS, provider, ANSP
Pro získání musíte mít účet v Citace PRO.
Anotace:
The aim of this paper is to determine the role of Common Information Service (CIS) in the U-space environment.

Ensuring the correct role of the CIS and all high-level connections is the first step to implementing U-space in
specific airspace and as such needs to be finished as soon as possible. The paper is based on the current
state-of-the-art in the field of drones and the development of the integration of drones' operation into airspace.
Options considered are based on analysing existing solutions in Europe and in the world, and the development
of regulations leading to the current draft of U-space legislation. The paper presents two main possibilities
of connections between U-space stakeholders and sets out eight criteria according to which both options are
compared. This comparison results in considering feasibility for both options, but the one where the CIS plays a
central role through which all information flows is evaluated as better.
Zobrazit více »