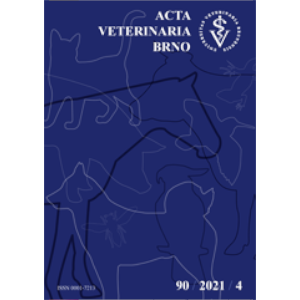 Soňa Pánková, Andrea Nečasová, Jana Lorenzová, Vladimír Jekl, Alois Nečas, Ladislav Dušek, Robert Hudeček, Petr Gál
Comparison of the effect of two anti-adhesion materials on the formation of postoperative adhesions after myomectomy – an experimental study on rabbit does
Číslo: 4/2021
Periodikum: Acta Veterinaria Brno
DOI: 10.2754/avb202190040407

Klíčová slova: Lagomorpha, gynaecology, Hyalobarrier Gel, 4DryField® PH.
Pro získání musíte mít účet v Citace PRO.
Anotace: This study compares the effect of Hyalobarrier Gel and 4DryField® PH on the formation of postoperative adhesions after myomectomy in an experimental study on rabbit does. Thirty experimental animals were divided into three groups: group A – control, group B – use of 4DryField® PH, and group C – use of the Hyalobarrier Gel. A simulated myomectomy was performed in each group. The animals were euthanised 14 days after the procedure and the antiadhesive effect of the above-mentioned preparations was evaluated according to the criteria. Statistical evaluation clearly showed differences in the antiadhesive effect in the scoring systems for groups B and C compared to control group A at a high level of significance. We demonstrated an obvious, statistically confirmed antiadhesive effect of the Hyalobarrier Gel and 4DryField® PH in an experimental model of the rabbit uterus. Comparing both preparations, the Hyalobarrier Gel shows a higher level of effectiveness. Based on the results of the experiment, both preparations can be unambiguously recommended for routine practice.