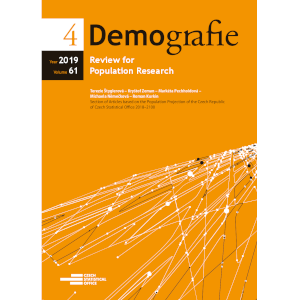 Kryštof Zeman
Fertility Assumptions in the Population Projection of the Czech Republic of Czech Statistical Office 2018–2100
Číslo: 4/2019
Periodikum: Demografie

Klíčová slova: Population projections, Czech Republic, births, fertility, age-specifc fertility rates, total fertility rate, cohort fertility, mean age of mothers
Pro získání musíte mít účet v Citace PRO.
Anotace:
The paper introduces the methodology used to estimate the fertility parameters for the population

projection of the Czech Republic for 2018–2050. Birth order and the cohort perspective were both included
in the process of estimating fertility rates. Tis methodology paper introduces the main principles and assumptions
of the fertility estimation, input and output data, and details of the computations and estimations. Te paper
also analyses the estimated values of the summary fertility indicators and their plausibility from the period
and cohort perspectives. Finally, it makes a comparison with past and alternative projections of fertility for
the Czech Republic.
Zobrazit více »