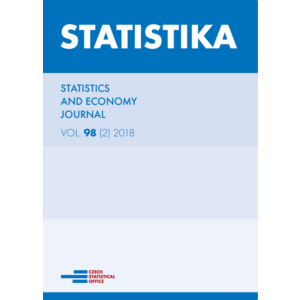 Lenka Vraná
On Extending Composite Leading Indicators by International Economic Series
Číslo: 2/2018
Periodikum: Statistika

Klíčová slova: Business cycle analysis, leading indicators, automation
Pro získání musíte mít účet v Citace PRO.
Anotace:
Composite leading indicators (CLIs) are recognized as eligible tools for business cycle analysis. When

the Organization for Economic Co-operation and Development (OECD) constructs CLI, its composition
depends on national data only. However, European economies are often small and open and therefore their
business cycles relate to situations in other countries. The approach described in this paper reflects these
characteristics. The international CLIs for Austria, the Czech Republic, Germany, Poland and Slovakia are
constructed and the leading influences on these countries are discussed.
The methodology of the CLI construction is described in detail by several organizations. It, therefore, comes
as a surprise, that there are no publicly available software programs, R packages or Python libraries, that would
support the whole computational process or its automation. A new Python-based framework is proposed
to fill this gap and it is demonstrated on the international CLI construction. It is introduced for the very first
time in this paper and it enables users to quickly analyze and visualize larger volumes of data than any other
available solution.
Zobrazit více »