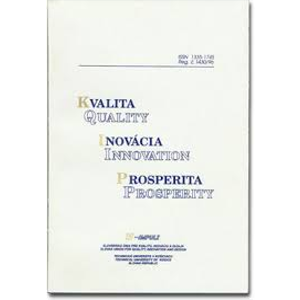 Nu Nguyen, Chuong Nguyen, Hieu Nguyen, Van Nguyen
Impact of Quality Management on Business Performance of Manufacturing Firms
Číslo: 3/2021
Periodikum: Quality Innovation Prosperity
DOI: 10.12776/qip.v25i3.1623

Klíčová slova: quality management; performance; manufacturing; Industry 4.0
Pro získání musíte mít účet v Citace PRO.
Anotace:
Purpose: The research aims to investigate the individual quality management (QM) factors impact on business performance in manufacturing firms. We then assess their influence and look at how industry 4.0 affects business performance directly. Furthermore, the study will demonstrate the moderate effect of industry 4.0 on the interaction between QM and business performance.

Methodology/Approach: The authors used two methodologies. The first is qualitative methods, by interviewing experts to develop a realistically appropriate model. The second is quantitative methods, by carrying out the survey and getting 84 observations. This research used the multivariate data analysis technique PLS-SEM to evaluate three measurement models: formative measurement model, reflective measurement model, and structural model.

Findings: The QM was operationalised as a multi–dimensional construct. According to the findings, these individual QM factors significantly affect the organisation's performance, including customer satisfaction, employee satisfaction and quality performance. Besides, QM and Industry 4.0 have directly impact on performance. The study also shows that industry 4.0 has a positive moderating role in the relationship between QM and business performance.

Research Limitation/Implication: The survey was only done in emerging countries and the sample size is limited. There are other QM and business performance measurement parameters that have not yet to be discussed.

Originality/Value of paper: The study contributes to the QM literature by building a business quality model, in which the role of Industry 4.0 was explored.
Zobrazit více »