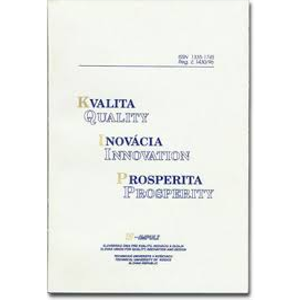 Mikhail Gennady Shalygin
Method of Supplier Selection by Means of Correlation of Quality and Cost Characteristics of Products
Číslo: 3/2018
Periodikum: Quality Innovation Prosperity
DOI: 10.12776/qip.v22i3.1189

Klíčová slova: supplier selection; the quality of the products; the reliability of the supplier; multivariate analysis
Pro získání musíte mít účet v Citace PRO.
Anotace:
Purpose: When choosing a supplier, many companies give priority to the lowest cost of products. Problems arise when the consumer wants to buy products with several better quality characteristics, but the products have only one of them. The aim is to establish a link between the quality characteristics of the product and its market value in terms of consumer benefits.

Methodology/Approach: The proposed model is based on determining the importance of criteria that determine the indicators of quality, reliability, characteristics of products and their comparison with the market price at which these products are supplied to the consumer. The model is built on the basis of statistical processing of the data received from consumers about preferences at the choice of production.

Findings: The method of determining the optimal supplier based on the cost and quality indicators of the product. Some indicators of the quality of products and their ranking by significance for the consumer are given. It gives the examples of calculation methods for univariate and two-factor analysis. It shows the ways of diagramming the determination of values of factors of production.

Research Limitation/implication: The model is relevant only at close market value of production for the consumer.

Originality/Value of paper: The methodology of criteria-based evaluation of the quality indicators of the supplied products or services allows making a selection of a products supplier on the basis of quality characteristics of the supplied products.
Zobrazit více »