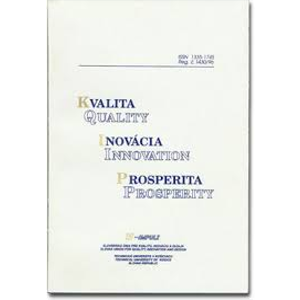 Stanislava Grosová, Olga Kutnohorská, Marek Botek
Determinants Influencing the Adoption of New Information Technology Supporting Healthy Life Style
Číslo: 1/2022
Periodikum: Quality Innovation Prosperity
DOI: 10.12776/qip.v26i1.1612

Klíčová slova: wearable self-tracking devices; UTAUT 2; healthy lifestyle
Pro získání musíte mít účet v Citace PRO.
Anotace:
Purpose: The presented study aims to identify key factors affecting the adoption of wearable electronics in Czech women. The results of the study can give insight on how to design an optimized wearable self-tracking device.

Methodology/Approach: The well-established Unified Theory of Acceptance and Use of Technology (UTAUT) framework served as a baseline for research on key determinants of behavioral intention to use wearable self-tracking devices.
Findings: The strongest factor was identified as the habit. The second strongest predictor affecting behavioral intention and use was the construct of performance expectancy. Personal health motivation, as a factor reflecting the nature of the subject examined, was the third strongest factor. The determinants of price value, effort expectancy, and social impact influence the adoption and use of these products. Facilitating conditions, personal inovativeness, personal control over diet and hedonic motivations did not play a significant role.
Research Limitation/Implication: The tested sample included 808 interviewed women, but only from the Czech Republic. Scale already defined Eating control behavior as a measure of healthy lifestyle in terms of eating was the first usage in UTAUT 2 model.
Originality/Value of paper: The study aims primarily to uncover the determinants of the usage of wearable electronics. Secondarily, it extends the theoretical framework of UTAUT2 by testing personal factors such as personal inovativeness, personal motivation to health, and personal control of eating as variables explaining behavioral intention and usage.
Zobrazit více »