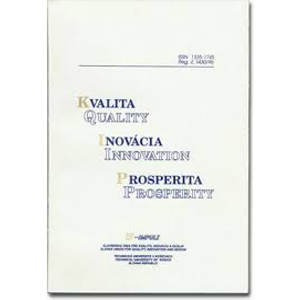 Štefan Rehák, Miroslav Šipikal, Alexandra Lešková
Evolution of University Third Mission Activities in Slovakia
Číslo: 1/2019
Periodikum: Quality Innovation Prosperity
DOI: 10.12776/qip.v23i1.1165

Klíčová slova: universities; research; innovations; Slovak Republic; third mission of universities
Pro získání musíte mít účet v Citace PRO.
Anotace: Purpose: Universities are an important component of regional innovation systems. There have been a number of studies during recent years in developed countries which analysed activities of universities aiming to increase their contribution in regional innovation. The aim of this article is to explore the evolution of third mission activities of universities in Slovakia and explore the role of public policy in this process.Zobrazit více »

Methodology/Approach: We used a document analysis of annual reports of all public universities in Slovakia to see which third mission activities universities claim to perform and how the situation has changed over the years. We also compared universities according to their focus and location. Several personal and telephone interviews were conducted to verify or supplement the information.

Findings: We found that among all third mission activities, the greatest change was observed in research and cooperation activities with businesses. This mainly resulted from a change in government policy but mostly due to very strong support from EU structural funds.

Research Limitation/implication: The study is based on annual reports of universities which do not necessarily cover all activities that universities actually perform.

Originality/Value of paper: The paper provides the first complete overview of the third mission activities performed by universities in Slovakia with a focus on their development over time. Also, it identifies the role which governmental policy plays in these processes.