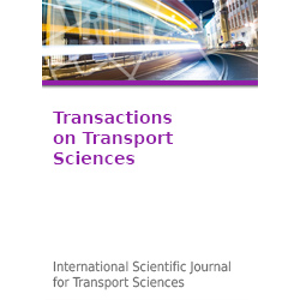 Transactions on Transport Sciences
Vydavatelství: Olomouc: UPOL
Rok vydání: 2008-

Pro získání musíte mít účet v Citace PRO.
Anotace:
Transactions on Transport Sciences is a multidisciplinary journal which focuses on the field of behavioural and social sciences in mobility, traffic safety, and sustainable transport, including engineering, economic, and environmental issues. The aim of the journal is to raise the profile of a holistic and interdisciplinary approach to transport research – the development of theory, empirical studies, and the application of research in practice. Theoretical papers are welcome. They should deal with a specific area or problem with a new way of looking at things or with a new methodology, even when the new perspective or methodology are not proven, yet. TOTS provides a platform for transportation experts and researchers, engineers, psychologists, sociologists, economics, ergonomists, and policymakers.

Each paper in the journal is evaluated by two reviewers under the supervision of the International Editorial Board. Each peer-reviewed article in the journal is provided with a DOI (Digital Object Identifier) number. The journal is published as open access. Papers are published free of charge. The journal uses the digital archiving policy of the National Library of the Czech Republic.

The journal has been published since 2008; in the years 2008-2012 it was published by the Ministry of Transport of the Czech Republic, and in the years 2013-2014 by the Transport Research Centre. Since 2016 the journal has been published by the Department of Psychology, Faculty of Arts, Palacky University Olomouc, Czech Republic. The language of the journal is English.
Zobrazit více »
Přehled čísel