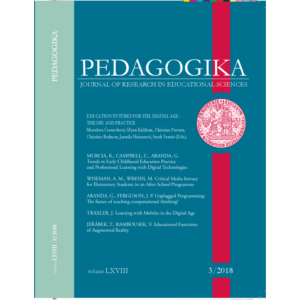 Karen Murcia, Coral Campbell, George Aranda
Trends in Early Childhood Education Practice and Professional Learning with Digital Technologies
Číslo: 3/2018
Periodikum: Pedagogika
DOI: 10.14712/23362189.2018.858

Klíčová slova: digital technology, tangible coding technologies, early childhood education, teacher training, pedagogy
Pro získání musíte mít účet v Citace PRO.
Anotace:
Th is literature-based article explores key trends in the integration of digital technologies

in education and aims to highlight issues and challenges in the relationship between
technology, pedagogy and early years' education practices. Th e article explores how technology,
teacher training initiatives and productive play-based pedagogy could be used to improve digital
literacy outcomes for early childhood learners. While situated within the Australian context, more
global literature is also reviewed to provide an international perspective. Th is review of trends in
the integration of digital technologies in education is timely due to the national and international
focus on STEM (Science, Technology, Engineering and Mathematics) education, arguably for
economic sustainability and the quality standards expected in early childhood education. Th e
role of digital technologies in early childhood is increasingly discussed and negotiated in learning
centres. Educators are wanting support in understanding how young children can be creators of
technology rather than simply being consumers of digital products.
Zobrazit více »