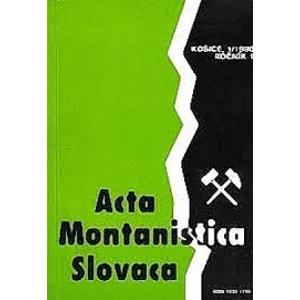 Michal Marcin, Karel Dvořák, Ladislav Pašek, Igor Ďuriška, Lucia Šebeščáková, Július Lišúch
Comparison of mechanical properties of geopolymers from different raw materials with the addition of waste glass
Číslo: 2/2021
Periodikum: Acta Montanistica Slovaca
DOI: 10.46544/AMS.v26i2.06

Klíčová slova: Geopolymer, Fly ash, Slag, Compressive strengths, Flexural strengths
Pro získání musíte mít účet v Citace PRO.
Anotace:
The combustion of fossil fuels results in creating a lot of solid wastes

such as fly ash and slag. However, these environmentally unfriendly
materials can be used as a raw material for alkali activation –
geopolymerization. Although these wastes have been successfully
used in industrial production for several decades, its use does not
achieve the level of its potential. Today, to achieve a sustainable
construction industry, alternative cement has been extensively
investigated. Geopolymer (GP) is a kind of material that is obtained
from the alkaline activator, and it can be produced from industrial
wastes or by-products. The aim of this work was to describe the
improvement of mechanical properties of alkali-activated binders –
geopolymers made of fly ash and blast furnace slag. The effect of the
addition of waste glass in three different values feed into fly ash or
GGBFS, and its impact on mechanical properties (compressive and
flexural strengths) of geopolymers was examined. The highest value
of compressive strength was achieved with 20% waste glass addition
to a fly ash sample on 90th day 58,9 MPa. The waste glass was added
in the form of broken and crushed glass particles.
Zobrazit více »