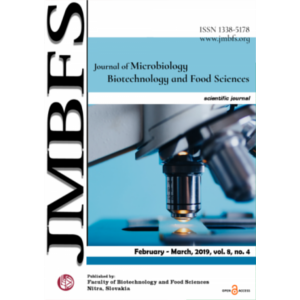 Arailym Ziyat, Michael Goddfellow, Ayaulym Nurgozhina, Shynggys Sergazy, Madiyar Nurgaziev
Novel actinobacterial diversity in Kazakhstan deserts soils as a source of new drug leads
Číslo: 4/2018/2019
Periodikum: Journal of Microbiology, Biotechnology and Food Sciences
DOI: 10.15414/jmbfs.2019.8.4.1057-1065

Klíčová slova: Actinomycetes, Kazakhstan, 16sRNA gene sequence, Streptomyces genera
Pro získání musíte mít účet v Citace PRO.
Anotace: Discovering new metabolites, notably antibiotics, by isolation and screening novel actinomycetes from extreme habitats ¬gave extraordinary results that can be adapted in the future for healthcare. However, it was little attention payed to desert soils in Central Asia, such as from Kazakhstan.Zobrazit více »
Taxonomic approach was to isolate selectively, dereplicate and classify actinomycetes from two Kazakhstan Deserts (Betpakdala and Usturt Plateu). The most representative isolates from colour-groups were describe via 16S rRNA gene sequence analysis.
Relatively large number, of strains from environmental soil samples were classified into Streptomyces genera. Moreover, three strains from two different soil samples were identified as relatively close to Pseudonocarida genera. All representative isolates were screened for bioactive compound against wild type microorganisms, as a result, of it can be interpreted that approximately half of screened strains are likely to produce metabolites which inhibits cell growth.
The results of this project demonstrate for the first time that arid regions of Kazakhstan soils are rich reservoirs of cultivable novel actinobacteria with the capacity to produce bioactive compounds that can be developed as drug leads for medicine.