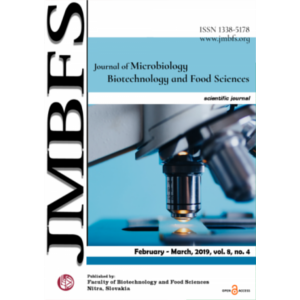 Július Árvay, Martin Hauptvogl, Marek Šnirc, Miriama Gažová, Lenka Demková, Lenka Bobuľská, Miroslava Hrstková, Daniel Bajčan, Ľuboš Harangozo, Jana Bilčíková, Michal Miškeje, Jana Štefániková, Vladimír Kunca
Determination of elements in wild edible mushrooms
Číslo: 4/2018/2019
Periodikum: Journal of Microbiology, Biotechnology and Food Sciences
DOI: 10.15414/jmbfs.2019.8.4.999-1004

Klíčová slova: Wild edible mushroom, Element, Risk assessment, Environment, Slovakia
Pro získání musíte mít účet v Citace PRO.
Anotace: The paper is focused on monitoring of the content of selected elements (Al, Cd, Cu, Hg, Pb, Se and Zn) in three species of edible mushrooms: Cantharellus cibarius Fr., Suillus luteus (L.) Roussel and Imleria badia (Fr.) Vizzini from three areas in Slovakia (Prašice, Bobrov and Dobroč). Qualitative and quantitative determination of the observed elements was performed by ICP-OES and/or CV-AAS.Zobrazit více »
All results were statistically evaluated at both descriptive and differential analysis level. Due to the fact that picking and subsequent consumption of edible wild mushrooms is popular in Slovakia, the data obtained were evaluated and compared to tolerable weekly intakes defined by WHO. Based on the content of the monitored elements, PTWI values were not exceeded in any of the species from the studied sites. In some cases, however, specific content values, especially Al, but also Cd and Hg were exceeded compared to the average concentrations of elements in mushrooms from uncontaminated areas. In general, it can be stated that regular and long-term consumption of the mushrooms does not pose any health risk to the consumers.