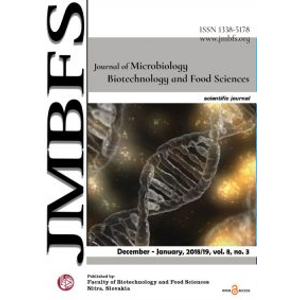 Boukili Mohammed, Chakir Said, Filali Rhazi Fouzia, Fikri Benbrahim Kawtar, Haloui Zoubida, Ouahbi Abdelilah, Elhourri Mohammed, Echchgadda Ghizlane
Chemical composition and antimicrobial activity of the essential oil of cistus ladanifer var. Maculatus dun
Číslo: 3/2018/2019
Periodikum: Journal of Microbiology, Biotechnology and Food Sciences
DOI: 10.15414/jmbfs.2018-19.8.3.925-930

Klíčová slova: Cistus ladanifer var. maculatus Dun., Cistaceae, essential oil, composition, gas chromatography, Verticiol, Monoterpene Hydrocarbons, antimicrobial activity
Pro získání musíte mít účet v Citace PRO.
Anotace: The aim of the present study was to identify chemical composition and evaluate antimicrobial effectiveness of the essential oil of Cistus ladanifer var. maculatus Dun. The essential oil of C. ladanifer's leaves was obtained by hydro-distillation and analyzed by gas chromatography coupled with mass spectrometry (GC/MS). 28 compounds were identified, representing 88.67% of the total constituents. The main compound was identified as Verticiol (18.16%), followed by Camphene (17.70%), γ-Gurjunene (7.15%), n-Butylcyclohexane (5.95%) and Bornyl acetate (5.86%). The oil was found to be rich in Monoterpene Hydrocarbons (32.05%), followed by Diterpenic alcohol (18.16%), Oxygenated hydrocarbons (13.27%), Sesquiterpene hydrocarbons (12.40%), Monoterpenic ester (5.86%), Cyclic ether (4.36%) and Oxygenated sesquiterpenes (2.57%).Zobrazit více »
Antimicrobial activity of the essential oil of C. ladanifer was tested against two Gram-positive (Staphylococcus aureus, Staphylococcus epidermidis) and two Gram-negative (Escherichia coli, Pseudomonas aeruginosa) bacteria, and three fungi (Candida albicans, Trichophyton rubrum and Aspergillus niger), by the microdilution method. In fact, strong inhibitory and bactericidal effect has been shown against all tested Gram-positive and Gram-negative bacteria. Indeed, strongest inhibitory and fungicide effect was exerted against the yeasts and molds studied.
It seems following this study that the essential oil of C. Ladanifer has very significant antimicrobial activity, it shows a broad spectrum covering Gram-positive, Gram-negative bacteria, yeasts and fungi.