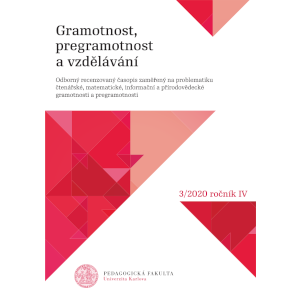 Jaroslav Bláha
Interdisciplinary Literacy as Complex Communication with Reality
Číslo: 3/2020
Periodikum: Gramotnost, pregramotnost a vzdělávání

Klíčová slova: interdisciplinary literacy, method of comparison, hermeneutics, information theory, expectations, visual literacy, music literacy, multimedia creation, collective work (Gesamtkunstwerk), interpretation, communication
Pro získání musíte mít účet v Citace PRO.
Anotace:
Nowadays, we are living in a multimedia environment which is a natural synthesis

of various forms of communication. A similar situation thus occurs in the fi eld of art, being an
equally natural consequence of the gradual disruption and blurring of boundaries between individual art forms and their synthetic fusion in the multimedia expression of contemporary art.
Moreover, if such interdisciplinary tendencies are reinforced in the fi eld of artistic production
and interpretation, they must be respected in the process of communication as well. Thus, in
addition to a wide range of fi eld-specifi c literacies in the domain of art, such as visual, literary,
or music literacy, etc., careful attention must also be paid to a comprehensive view of the current
art scene. Such a view is associated with interdisciplinary literacy. This summarizing study is
focused mainly on the theoretical basis of interdisciplinary literacy and places the emphasis
on interpretive models that are closely related to comparative analysis, especially with applied
information theory and hermeneutics.
Zobrazit více »