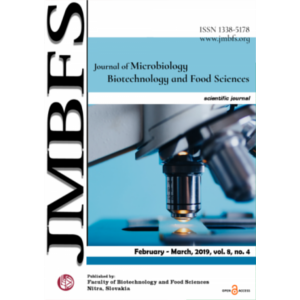 Michal Ďuračka, Lucia Galovičová, Marek Slávik, Július Árvay, Eva Tvrdá
The in vitro effect of the origanum vulgare extract on semen
Číslo: 4/2018/2019
Periodikum: Journal of Microbiology, Biotechnology and Food Sciences
DOI: 10.15414/jmbfs.2019.8.4.1089-1092

Klíčová slova: spermatozoa, Origanum vulgare, extract, oxidative stress, mitochondrial activity, motility
Pro získání musíte mít účet v Citace PRO.
Anotace: Origanum vulgare is a medicinal and aromatic plant that has found its use all over the world. Male reproduction involves complicated morphological and physiological processes such as spermatogenesis and gamete transport into the male genital organs. The aim of this study is focused on the in vitro effect of the Origamium vulgaris on the motility, vitality and evaluation of the formation of free radicals. The heterospermic rabbit samples were diluted with culture medium supplemented with the extract of Origamium vulgaris at concentrations of 37.5; 75; 150 and 300 μg/mL evaluated at time intervals of 0, 2 and 8h. Selected chemical compounds were determined through HPLC-DAD method. From the analysed phenolic acids, rosmarinic acid was the predominant component, from flavonoids it was Cynarosid. Sperm motility was analysed using CASA (Computer-aided Sperm Analysis). The viability was analysed by the MTT (Mitochondrial Toxicity Test) test.Zobrazit více »
The determination of ROS (Reactive Oxygen Species) quantity was observed through luminol method. The results showed significant decreases of motility and viability at concentrations of 300 and 150 μg/mL in various time periods and the ROS quantity was without any significant differences during all the experiment. We conclude that chemical composition of the Origanum extract may damage structure and function of spermatozoa. Based on this findings, we did not suggest the Origanum extract as a supplement in spermatozoa medium.