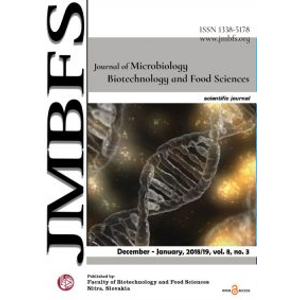 Miroslava Císarová, Eva Ürgeová, Lukáš Hleba, Ivana Charousová, Matěj Božik, Pavel Klouček, Tibor Maliar
Inhibition effects of some antimicrobial agents from salvia officinalis l. On the growth of selected gram-negative and gram-positive bacterial strains
Číslo: 3/2018/2019
Periodikum: Journal of Microbiology, Biotechnology and Food Sciences
DOI: 10.15414/jmbfs.2018-19.8.3.960-964

Klíčová slova: essential oils, extract, antimicrobial activity, Gram-positive and Gram-negative bacteria
Pro získání musíte mít účet v Citace PRO.
Anotace: In the present study, the antimicrobial activity of sage oil, some of its pure components (1,8-cineole, borneol and ɑ-ß thujone) and sage extract were investigated against selected strains of Gram-positive bacteria (Enterococcus faecalis, Staphylococcus aureus) and Gram-negative bacteria (Klebsiella pneumoniae, Escherichia coli). The antimicrobial activities of the used antimicrobials agents were determined by using the micro broth dilution method according to Clinical and Laboratory Standards Institute. The percentage of bacterial growth was determined by measured absorbance on a Microplate Reader Opsys MRTM, Dynex (Chantilly, USA). The best minimum inhibitory concentration (MIC) was found against Gram-positive bacteria S. aureus CCM 4223 by sage essential oil with MIC50 96.05 μg/mL. The results from the percentage growth of tested bacteria showed that antimicrobial agents inhibit more Gram-positive, than Gram-negative bacterial strains.Zobrazit více »
The chemical composition of sage essential oil (EO) was analysed using the gas chromatography-mass spectrometry (GC-MS). Sage EO contains primarily ɑ -thujone (14.00 %), borneol (12.90%), camphor (12.90%), (−)-Isopulegol (10.10%), ß-thujone (8.40%) and 1,8-cineole (8.00%). The antioxidant properties of sage oil (71.55%) and sage propylene glycol extract (60.93%) were measured by testing their scavenging effect on DPPH radical activities. Due to antibacterial activity of the tested antimicrobials from sage, the problem of microbial resistance to conventional antibiotics could be treated by pharmaceutical industries to manufacture antibacterial drugs.